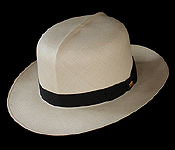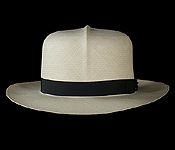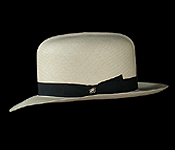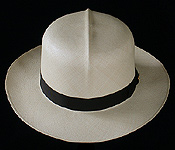 Roff Smith in front of the Taj Mahal. Roff does not roll his Optimo, not even for travel.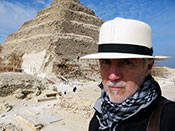 Robert G. and the Step Pyramid of Zoser in Egypt. Robert is the one wearing the hat.
The Optimo is the classic Panama hat style. In Ecuador, it's called the Natural. The Optimo was the style of choice for British travelers, ex-pats, and empire builders in Malaysia, Hong Kong, India, and throughout the tropics—anywhere a gin and tonic had actual therapeutic value (against malaria, not just tropical tantrums). Even today, the style is more popular in the UK than in the US.
Some people think of it as a "Charlie Chan" hat. I preferred it on Peter O'Toole in The Last Emperor, Sean Connery in The Man Who Would Be King, Sidney Greenstreet in Casablanca.
This style probably originated as a natural consequence of people rolling up their hats. If you roll up an unblocked hat a few times, you wind up with a center crease. So why not call it a style, give it a name, and make some blocks.
This particular Optimo is hand-blocked and has a leather sweatband. You don't roll it up. If you want one to roll up, go here: Roll-Up Panama Hats
As with fedoras, there are several variations of the Optimo style. And as with Fedoras, I have definite opinions so I designed my own blocks. I prefer a more rounded crown over a flatter crown. Why? Better looking. Also better architecture.
The Optimo has been growing in popularity. More and more of you are choosing to swan about in non-roll-up Optimos. My friend, Roff Smith, wears his Optimo as his Writing Hat. As his Travel Hat. As his Going To Town Hat. As his Going To The Swings With Daughters Hat. And so on.
A good hat is like that. A good hat becomes a good friend.™
Visualize having ten good friends.
Now make it so.
PRICES
Why One Panama Hat Costs More than Another
PREMIUM
$500, $650, $800, $1000, $1500
SUPER-PREMIUM
$2000, $3000, $5000
$7500 to $25,000
BRIM
2 1⁄2 to 3 1⁄8 inches
CROWN
4 to 4 1⁄2 inches
(to the top of the center crease)
21 3⁄8 to 25 1⁄4 inches
(54 to 64 cm)
Standard sweatband for this style is un-dyed fine leather.
Standard ribbon for this style is 1 1⁄16 inch black.