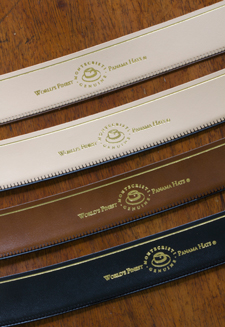 Finest leather sweatbands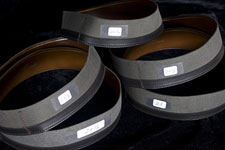 Five leather bands, each a slightly different size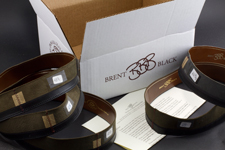 Leather size bands, shipping box, instructions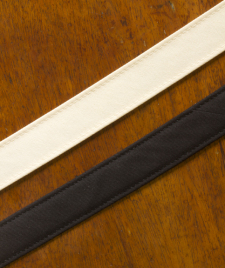 Cotton Twill Sweatbands
Black is standard.
When you order your hat, you will choose which type of sweatband you prefer. Highest quality sheepskin roan leather or cotton twill.
If you include a measurement with your order, I will send you five sweatbands of whatever type you choose. One will be the measurement you enter with your order. You will also receive a sweatband 1⁄8 inch larger, a sweatband 1⁄8 inch smaller, a sweatband 1⁄4 inch larger, and a sweatband 1⁄4 inch smaller. You can try on all five bands and choose your perfect fit. My advice is to choose a snug fit, not an "easy" fit.
Send me an email to let me know which size you chose, and I can begin to block your hat.
If the largest band is too small, or the smallest too large, then you are probably a physician. They seem to have the most difficulty measuring their heads and the highest margin of error. Odd. Just let me know and I will send more bands.
For US orders, a pre-printed, postage-paid return label is included with the bands. Just put the bands back into the same box, attach the label, and send them back. It is not possible for me to pre-pay postage for other countries. But you should be able to re-use the same box to return the size test bands.
If you request a hat size tape measure when you place your order, then when you have a good measurement, email or call to let me know what you came up with. I will send you pre-sized sweatbands as described above.
I know you might be tempted just to guess at a measurement and get on with it, without going through the various steps. Don't do that. It's your hat. You want it to fit perfectly, yes? You need to participate.
Every Montecristi Panama hat is custom blocked and custom sized. I don't just reach over and take a hat off a shelf and ship it to you. I actually block, style, and size your hat for you.
I know you are impatient to have your hat. I consider that a compliment. I would be the same way. But imagine your disappointment after you've waited for your to-die-for, hand-blocked, custom-sized, Montecristi Panama hat to arrive and you open the box, put on your new hat, and discover that the size you gave me is actually Andre the Giant's size, not yours. We start over. I've had clients get it wrong by more than an inch (physicians). That's just not possible if you follow my advice and keep your head in the game, so to speak.
Remember—it's all about you, it's your hat. Be totally self-centered: get it right.
Your hat is very personal. Putting it on should feel like coming home. I don't want you wishing it was just a little bigger or smaller every time you put it on. I much prefer to hear "This is the first hat I've ever had that really fits right." That's the plan.
We can absolutely get this exactly right, even long distance, but I need your help. Let's do it. bbb@brentblack.com
Well, that's about the size of it.