10. The Cortador Cuts Off the Excess Straw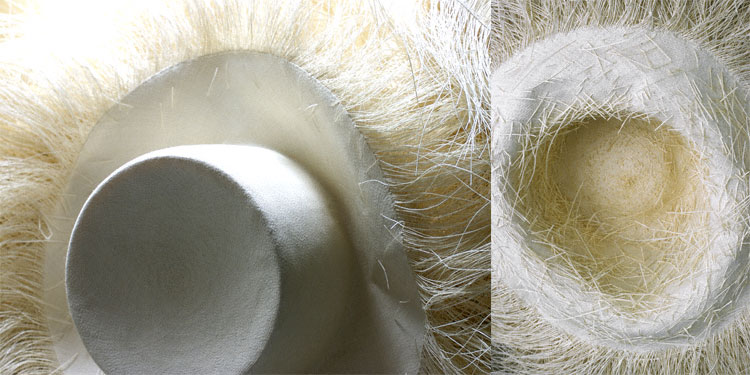 Some weavers leave lots of loose ends all over the hat. All weavers leave loose ends at the brim edge. Even after the rematadora and the azocador have woven the brim edge, the loose ends will remain.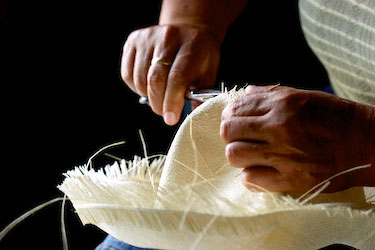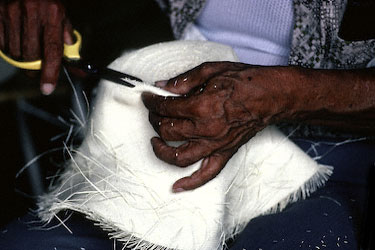 This is Rosendo Delgado. He is often the cortador for his hats. He and Victoria do the first cutting on almost all of their hats.
I am very glad he is who I found when I first went hunting for hats in Montecristi. We worked together for many years. He always had the most hats and the best hats.
He and Victoria helped me in extraordinary ways. They helped me distribute food to weavers. They helped me find a doctor so I can provide medical service for weavers. They showed me how the hats are made. They helped me to learn.
I have been privileged to do business with Don Rosendo and Dona Victoria for almost twenty years.
Victoria has twice gone to rescue hats for me from sellers who "forgot" to send me the hats I had paid for.
The first time, the dealer who had my money and my hats had died. Victoria and a Peace Corps volunteer had to take my hats away from relatives more greedy than grieving. They did it.
The second time was from her own nephew. He simply could not bring himself to send me the hats I had paid for. He already had that money. And he had the hats. If he sold those hats (again) he would have more money. Can't argue with his logic. Just his ethics.
Thank you, thank you, Victoria.
Don Rosendo grew older. His health failed. A younger, stronger family became the largest dealers. Así es la vida.
Okay, back to making hats. Below, the cortador cuts the long straw at the end of the brim.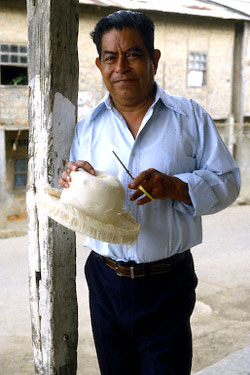 Don Rosendo Delgado
I don't know what I would have done without him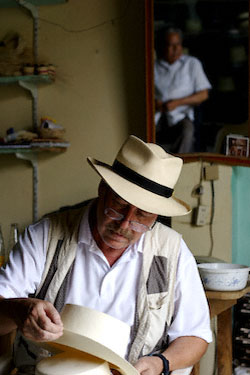 Nice hats
Don Rosendo looks at me as I look at hats.
The hat I'm inspecting won a trip to Hawaii.
Photo © 2005 Roff Smith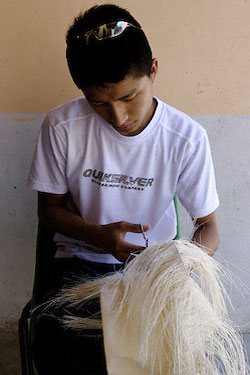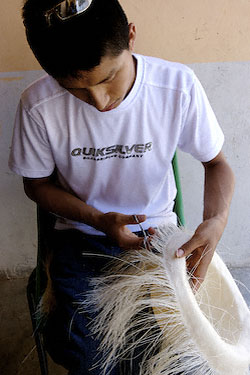 The cortador saves the trimmed straw, below. He bundles it, ties it with a straw, and saves the bundles in a bag. If this hat needs any repairs, and almost all hats do, he will use the saved straw for the repairs so it will match perfectly.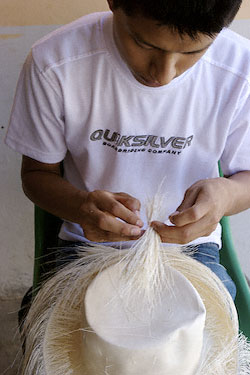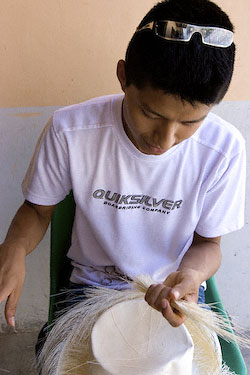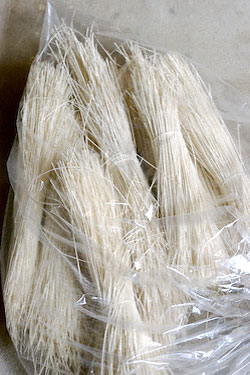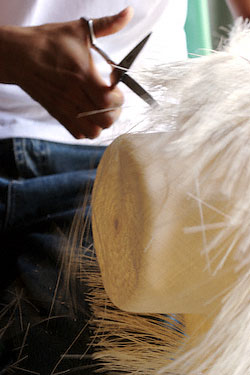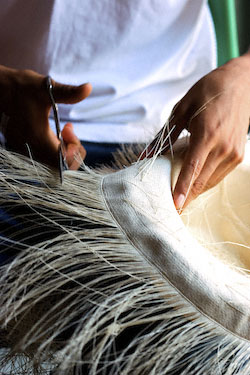 The cortador works quickly, but carefully.
| | |
| --- | --- |
| Next: the hats are washed and bleached before they go to the apaleador. Next Page | |
The Panama Hat Company of the Pacific dba
Brent Black Panama Hats
1314 Center Dr., Suite B-448
Medford, OR 97501
There is no retail store at this address. (more)
Toll Free: (888) 658-6500
Phone: (541) 201-3113
bbb@brentblack.com
Text and photos © 1988-2022, B. Brent Black. All rights reserved.
100% Secure Shopping