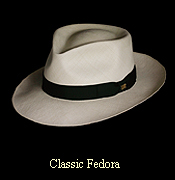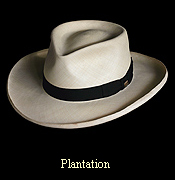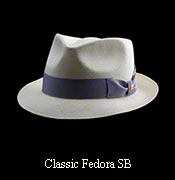 Put cursor on style names to preview, click link to skip on down,
or scroll down gently and enjoy reading the really important stuff in-between
"One should either be a work of art,
or wear a work of art."
Oscar Wilde
"Why not do both?"
B. Brent Black

Style Photos
The photos are representative of the general look of the style. Please don't assume your hat will look exactly like one of the photos. If you fall in love with one of the photos, just let me know and I'll aim for that proportion. If you want a flatter brim, or a wider one, than in one of the photos, or a taller crown, or whatever, let me know and I'll do my best.
Regular Brims
Classic Fedora
Hemingway's Hat
Classic Fedora (AC)
Gatsby Fedora
Optimo
Montego Bay Fedora
Havana Fedora
Wider Brims
Plantation
Aficionado
Monte Carlo
The Golf

of

Panama
Greenstreet
Keeneland
Special Styles
For people who live at high attitude.
Homburg
Derby
Rare Treasures
The very finest Montecristi Panama Hats
in the entire world.

Really.

I have 14 hats with weave counts of 1600 to 2500/sq in. These hats are quite literally the stuff of legends. Woven so finely that they are more like linen than straw, as much art as apparel. Each is signed by the artist.

I am the exclusive representative of the very best of the very few who still practice the rare sorcery of turning straw into cloth.

These priceless treasures are not just a media rumor. They really exist. I have them. As with all priceless treasures, they have prices. $8,000 to $25,000.

Serious inquiries only please.
Call my direct line: 808-262-2892.
The Panama Hat Company of the Pacific dba
Brent Black Panama Hats
1314 Center Dr., Suite B-448
Medford, OR 97501
There is no retail store at this address. (more)
Toll Free: (888) 658-6500
Phone: (541) 201-3113
Fax: Coming soon
bbb@brentblack.com
Text and photos © 1988-2018, B. Brent Black. All rights reserved.
100% Secure Shopping