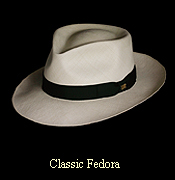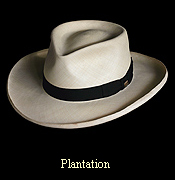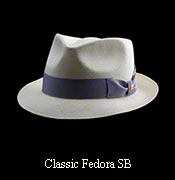 Put cursor on style names to preview, click link to skip on down,
or scroll down gently and enjoy reading the really important stuff in-between
"One should either be a work of art,
or wear a work of art."
Oscar Wilde
"Why not do both?"
B. Brent Black

Five Simple Steps to Eternal Hat Happiness
1. Choose a style
Take a look at the seventeen styles below.
2. Measure your head or request a free tape measure
3. Place your order
You may request a tape measure when you place your order online or by phone.
4. Try on the sweatbands I will send you
I will mail you five sweatbands. One will be sized to the measurement you give me. The others will be incrementally larger and smaller. Choose your perfect fit.
5. Open the box, put on your hat, look in the mirror, smile
Your hand-blocked, custom-sized Montecristi Panama hat looks great, fits perfectly.

Your Very Own Hand-Woven, Hand-Blocked, Custom-Sized Montecristi Panama Hat.
Yes, I can custom make your hat even when your head is there and my hands are here.

Most heads do not come in exact hat sizes. So let's forget about hat sizes. I will custom size your hat to fit your head. Just measure your head. If you don't have a tape measure, send me an email and I'll send you one of my hat size tape measures and a few suggestions to help you measure your head accurately. Easy. BBB@BrentBlack.com Include your regular mailing address; the tape measure cannot be emailed. You can also go ahead and order your hat today, just click to request a tape measure when you are asked for your head size.

Style Photos

The photos are representative of the general look of the style. Please don't assume your hat will look exactly like one of the photos. If you fall in love with one of the photos, just let me know and I'll aim for that proportion. If you want a flatter brim, or a wider one, than in one of the photos, or a taller crown, or whatever, let me know and I'll do my best.

Classic Fedora
Regular Brims
Classic Fedora
Hemingway's Hat
Classic Fedora (AC)
Gatsby Fedora
Optimo
Montego Bay Fedora
Havana Fedora
Wider Brims
Plantation
Aficionado
Monte Carlo
The Golf

of

Panama
Greenstreet
Keeneland
Special Styles
For people who live at high attitude.
Classic Fedora SB

(skinny brim)
Havana Fedora SB

(skinny brim)
Homburg
Derby
Downing Street
Rare Treasures
The very finest Montecristi Panama Hats
in the entire world.

Really.

I have 14 hats with weave counts of 1600 to 2500/sq in. These hats are quite literally the stuff of legends. Woven so finely that they are more like linen than straw, as much art as apparel. Each is signed by the artist.

I am the exclusive representative of the very best of the very few who still practice the rare sorcery of turning straw into cloth.

These priceless treasures are not just a media rumor. They really exist. I have them. As with all priceless treasures, they have prices. $8,000 to $25,000.

Serious inquiries only please.
Call my direct line: 808-262-2892.
The Panama Hat Company of the Pacific dba
Brent Black Panama Hats
1314 Center Dr., Suite B-448
Medford, OR 97501
There is no retail store at this address. (more)
Toll Free: (888) 658-6500
Phone: (541) 201-3113
Fax: Coming soon
bbb@brentblack.com
Text and photos © 1988-2018, B. Brent Black. All rights reserved.
100% Secure Shopping